eTranscripts for California
Monday, 23 July 2007 08:52
eTranscript California is a statewide electronic transcript exchange supporting electronic transcript request and delivery across all of California's postsecondary systems. Its unique request and delivery foundation makes it a very successful automation tool for delivering transcript data to the student's next college. Electronic data delivery as opposed to PDF or paper can make the difference for student's rapid evaluation for admission consideration.
eTranscript California Benefits:

Speed
Tracking
Security
Increased Productivity
Student Convenience
Lower Costs
Standardized Formats
Environmentally friendly
Last Updated on Sunday, 09 December 2012 15:54
California Electronic Transcripts Systems
Wednesday, 15 August 2012 08:38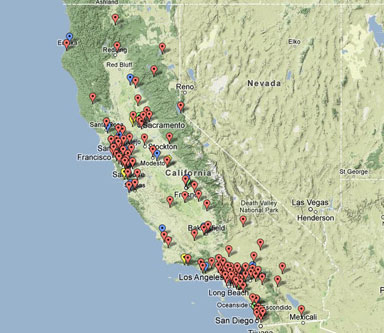 Click on the image to view a geomap of school's electronic transcript systems.
Last Updated on Sunday, 20 January 2013 12:21
Over 581,000 LIVE transcripts delivered!
Click here for Live Transcript Counts
Click here for list of Primary Contacts
| | | | | |
| --- | --- | --- | --- | --- |
| Live Colleges | Accepting Electronic Requests? | Sending Electronic Transcripts? | Accepting Electronic Transcripts? | |
| | Yes | Yes | Yes | |
| | No | Yes | Yes | |
| | No | Yes | Yes | |
| | Yes | Yes | Yes | |
| | Yes | Yes | Yes | |
| | No | Yes | Yes | |
| | Yes | Yes | Yes | |
| | Yes | Yes | Yes | |
| | Yes | Yes | Yes | |
| | No | Yes | Yes | |
| | Yes | Yes | Yes | |
| | Yes | Yes | Yes | |
| | Yes | Yes | Yes | |
| | Yes | Yes | Yes | |
| | Yes | Yes | Yes | |
| | Yes | Yes | Yes | |
| | Yes | Yes | Yes | |
| | Yes | Yes | Yes | |
| | Yes | Yes | Yes | |
| | No | Yes | Yes | |
| | Yes | Yes | Yes | |
| | Yes | Yes | Yes | |
| | Yes | Yes | Yes | |
| | Yes | Yes | Yes | |
| | Yes | Yes | Yes | |
| | Yes | Yes | Yes | |
| | No | Yes | Yes | |
| | Yes | Yes | Yes | |
| | No | Yes | Yes | |
| | Yes | Yes | Yes | |
| | No | Yes | Yes | |
| | No | Yes | Yes | |
| | No | Yes | Yes | |
| | No | Yes | Yes | |
| | No | Yes | Yes | |
| | No | Yes | Yes | |
| | Yes | Yes | Yes | |
| | No | Yes | Yes | |
| | No | Yes | Yes | |
| | Yes | Yes | Yes | |
| | Yes | Yes | Yes | |
| | Yes | Yes | Yes | |
| | Yes | Yes | Yes | |
| | Yes | Yes | Yes | |
| | No | Yes | Yes | |
| | No | Yes | Yes | |
| | Yes | Yes | Yes | |
| | No | No | Yes | |
| | No | No | Yes | |
| | No | No | Yes | |
| | No | No | Yes | |
| | No | No | Yes | |
| | No | No | Yes | |
| | No | No | Yes | |
| | No | No | Yes | |
| | No | No | Yes | |
| | No | No | Yes | |
| | No | No | Yes | |
| | No | No | Yes | |
| | No | No | Yes | |
| | No | No | Yes | |
| | No | No | Yes | |
| | No | No | Yes | |
| | No | No | Yes | |
| | No | No | Yes | |
| | No | No | Yes | |
| | No | No | Yes | |
| | No | No | Yes | |
| | No | No | Yes | |
| | No | No | Yes | |
Colleges Implementing / not yet LIVE on eTranscript California include:
For more information about the college status click this link. It will open a document from Google Docs. Click Here
Last Updated on Tuesday, 02 September 2014 13:14