What Is eTranscript California?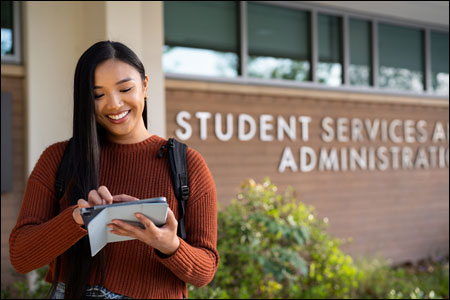 eTranscript California is a web-based electronic transcript system designed to be used by college/university administrators and staff and their transcript trading partners to exchange transcripts between California Community Colleges, CSU Campuses, UC Campuses, and other postsecondary education institutions. Designed to provide secure, value-added request and delivery services between institutions, eTranscript California automates transcript exchange by:
Providing a straightforward integration with your student information system, or preferred transcript vendor (when offered)
Streamlining transcript exchange by supporting transcript requests by the authorized receiving institution
Systemically translating transcripts into XML and EDI formats to facilitate delivery to institution ERP or other application system
Supporting the California-specific fields required by the CSU and UC systems
Saving staff resources by using user-friendly functionality to view, print, store, and download received transcripts
Including email communication throughout the process
Services/Products
Requesting Transcripts:
Request single or bulk transcripts
Identify trading partner preferences for transcript processing
Electronic message confirmation
Fulfilling Transcripts
Interface with College SIS
Visual workflow process illustrates transcript fulfillment progress
Upload and transmit transcripts
Email communication throughout the process
Receiving Transcripts
View, print, and download capability
Provides three standard online transcript views: brief, full, and gen-ed
Standards-based transcripts for easy loading into student information systems
Receive XML and EDI transcripts from any non CCCTran institution via UT (Texas) server
Administration
Transcript request and submission reports
Complete transaction event history
Account management
Configurable workflow preferences, including transcript fee and waiver rules, fulfillment processes, control and expiration options, email communication, and institution information.
Contact Information
**If you are a student looking to send your transcript, please follow the directions provided by your college. eTranscript California does not directly support student transcript requests.**

To contact eTranscript California project staff, reach out to:
Mark Cohen
Product Manager, California Community Colleges Technology Center
(530) 879-4179
mcohen@ccctechcenter.org